Marsh Stencil Express
ELECTRONIC STENCIL CUTTER - Discontinued 2021.
The Marsh Stencil Express is an electronic computer driven stencil cutting system.  The state of the art software is designed specifically to meet your varied stenciling requirements.  The "windows" based software program is designed to run directly from an existing PC and does not require a stand alone dedicated system.
Stencil Express software is a Windows®-based application including Windows® 8.
Have you ever cut a long stencil message and on the 75th letter, punched the wrong letter? Then you have to start all over and try again. Not with the Stencil Express!!! Type in your messages, verify, then cut. You also have the ability to save for future use.
SOFTWARE FEATURES INCLUDE:
WYSIWYG software included.
Multiple line cutting
Left, center, or Right Justification
Rotating Text (Cuts in Any Direction)
Space adjustment between characters
Cuts stencils in arc format
Save/Name stencil files
Runs directly from your existing PC.
New Software 2012. Click for a pdf to show fonts.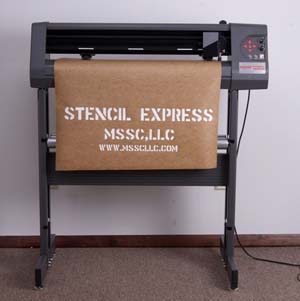 (Shown with Optional Stand)
HARDWARE FEATURES INCLUDE:
Heavy duty cutting bed
Uses up to 24" wide cutting material. Most material comes in rolls and mounts
on the machine cradle for easy unwind during the cutting process.
Cuts Express(Ultra)-Cut, Oil board and other media.
Knife force up to 400 grams
Sharp, Clean stencils cuts.
Digital servo drive
Repeat function and easy to use keypad, includes test cut feature, adjustable dial
for calibrating the blade cutting force and cutting speed. Repeat job button and
start/stop button.
Easily replaceable blades
110 or 220 volt power supply (auto sensing)
Comes complete with 24" cutter, stencil and decal software, manual, cables, and the 45 degree blade for cutting poly material. If you are cutting oilboard you will need to add the 60 degree blade.
We offer a Total Solution package with everything you need upon receipt to start creating stencils. Order the SE100TS.
| | |
| --- | --- |
| Item Number | Description |
| 180M-SE100 | Stencil Cutter System |
| 180C-SE101 | Express-Cut Polyethylene Film .008, 24" X 100' |
| 180P-SE102 | 45 Degree Blade (Ultra-Cut) |
| 180P-SE103 | 60 Degree Blade (Oil Board) |
| 180A-SE104 | Cutter Stand and Roll Holder |
| 180C-SE106 | Magnetic Material 24" x 50' |
| 180C-OB11-44-RL-24 | Oilboard, Natural 11 pt. 24"x100' |
| 180P-SERP105200 | Blade Holder |
| 180P-SERP105953 | Timing Belt |
| 180P-SERP106381 | Drive Belt |
We recommend the stand to accomodate the roll of material.
Sample Prints:
The Express(Ultra)-cut material sticks to the surface giving you a much cleaner print and works great on curves.

Set up your whole message, check spelling, then hit the print button. Note the various fonts and sizes from the same machine.
| | This is using the Express-Cut Polyethylene Film .008. |
| --- | --- |
| | This is using .011 Oilboard on a roll. You get a little smudge but the stencils should last longer. |
| --- | --- |
2 Year limited manufacturers warranty parts and labor at the factory.
Microsoft, Encarta, MSN, and Windows are either registered trademarks or trademarks of Microsoft Corporation in the United States and/or other countries.